FAKRA connector belongs to coaxial signal transmission connector. At first, it was mainly used for the transmission of radio frequency signals. After coaxial and LVDS signal conversion IC appeared in the market, its application scope was extended to the field of video signal transmission, and it was widely used in the field of automotive electronic entertainment systems, and it was an important part of signal transmission between on-board multimedia devices. FAKRA connector has the characteristics of good shielding and signal stability, fast transmission rate, high cost performance and small size.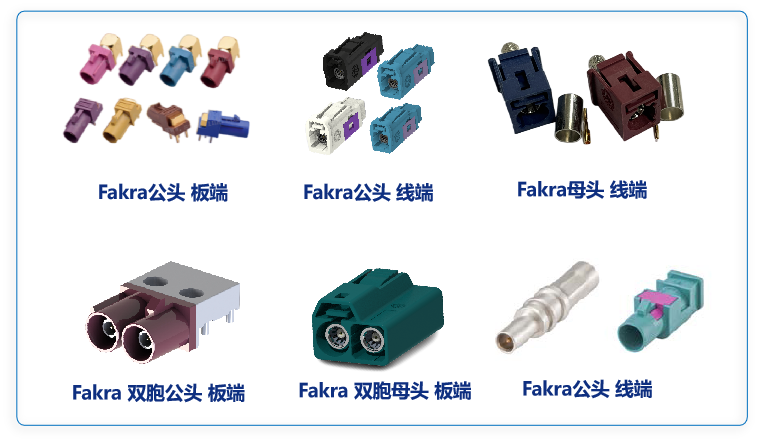 key property:
Transmission frequency:DC~6GHz
ambient temperature:-40℃~105 ℃
Multicolor Coding, mechanical error proofing
application area:
Superlink (SLK for short) of Sulian Company has the ability to develop, produce, assemble, test and verify high-frequency and high-speed connectors in vehicles. The product development and production process meets the requirements of IATF16949 management system certification, strictly follows the APQP product development process, and is good at high-frequency and high-speed connector scheme and structure design, simulation and optimization to meet the strict quality control requirements of the automobile industry. The company's on-board products meet the standards of USCAR and ISO. At present, some products have been mass-produced and applied to OEMs and TIER1 suppliers.