MiniFAKRA connectors belong to the next generation of miniaturized products of FAKRA connectors. In recent years, with the rapid development of intelligent vehicles, they have been rapidly promoted and applied in batches, serving as a key high-performance interface for intelligent vehicle computer control systems. Compared to traditional FAKRA products, this interface supports data transmission up to 20Gbps, reducing installation space by 80%.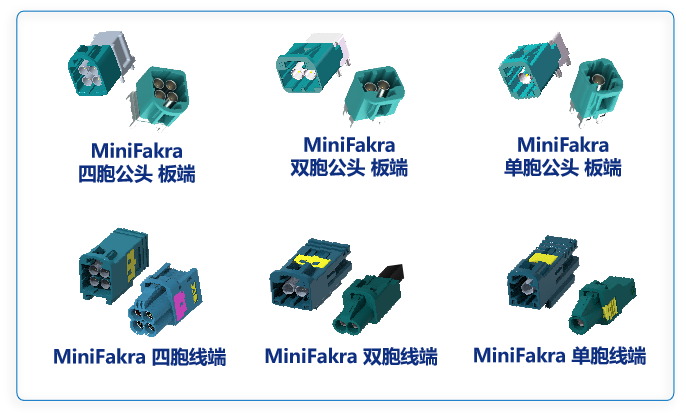 Main characteristics:
transmission frequency:DC~15GHz
Support signal rate of 20Gbps
Small integration, can save 80% space
Multi color coding differentiation, mechanical error prevention
Multi cell/single cell, optional configuration
application area:
360 degree surround view camera
Advanced driver assistance systems(ADAS)
High broadband information and entertainment system
Remote start and vehicle control
4K level high-definition camera



Superlink (SLK), a 4K level high-definition camera company, has the ability to develop, produce, assemble, test and verify high-frequency and high-speed connectors in vehicles. The product development and production process comply with the IATF16949 management system certification requirements, strictly follow the APQP product development process, and excel in the design and structural design of high-frequency and high-speed connectors, simulation and optimization, to meet the strict quality control requirements of the automotive industry. The company's car products comply with the relevant standards of USCAR and ISO, and some of them have been mass-produced and applied to the main engine factory as TIER1 suppliers.